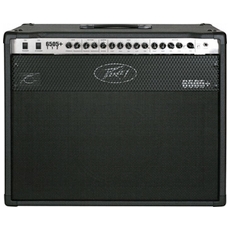 Although the Peavey 6505+ combo is an amp that favors metalheads and shredders, the portability and flexible EQ will appeal to a wide variety of players across several high-gain genres.
Although Peavey's relationship with Eddie Van Halen ended several years ago, the widely-popular 5150 series lives on under the 6505 series. The advantage of severing a relationship with a high profile if not demanding artist is that a company can incorporate significant improvements that were beyond the artist's wishes. In the case of the 6505 series, all of the beloved high-gain architecture is still there, as are some common-sense revisions. Fortunately, the amp is still as well-constructed and affordable as ever.
For players who do not need (or can't haul around) a 4×12 amp stack, there's the 6505+ 112 combo amplifier. The combo amp, with a 60 watt power section and 12″ Sheffield speaker, has a flavor and voice that sets it apart from its larger brethren, but in a good way. In addition to the unique voicing, the smaller size and output make it a far better amplifier for home recording as well as recording studios and smaller venues. Let's take a look at some of the specific features.
Specifications
Immediately apparent is the relatively large size of this 112 combo. But these dimensions allow the 6505+ to produce thunderous lows that even most 2×12 cabs can't match. Five 12AX7 tubes drive the preamplifier, while the 60-watt output comes from a pair of 6L6 valves. The sealed cabinet contains a single Sheffield speaker, and as a touch of high-tech bling, the Peavey logo illuminates on power-up behind the grille cloth.
Although it's a combo amp and certainly smaller than the Peavey 6505 4×12 cabinets, this combo's got some heft. However, these larger dimensions allow the 1×12 Sheffield speaker to produce thick, tight lows that compete with most 2×12 amps. The preamp section is powered by five 12AX7 tubes, whereas the power amp section (60 watts) is powered by a pair of 6l6s. The closed-back cabinet features a single 1×12 Sheffield speaker. The amp also contains some non-tonal yet über-cool features such as an illuminated Peavey Logo that lights up behind the front grille. Very nice.
The dual channel (lead and rhythm) amplifier features controls for pre-gain, post-gain, low, mid, and high eq, resonance, presence, as well as a simple push control for channel activation. The rhythm channel features a "crunch" switch to add more gain to this channel if you choose. An optional footswitch allows you to control the "crunch" control as well as change channels. The channels share a three-spring reverb tank and a single reverb level control. The resonance and presence controls are particularly useful, given the high amount of gain on tap, since they allow you to balance the gain as well as the speaker response.
The back of the amp reveals the send and return jacks for the onboard effects loop as well as an impedance selector that affords 4, 8, and 16 ohm options. A simulated direct out is also included, intended to emulate the sound of a miked speaker cabinet without all the hassles.
Performance
Getting right to the point – the 6505 is a gain machine almost without peer. Honestly, I rarely turned the gain control past 6, and I'm generally a "this one goes to 11" kind of guy. There are a lot of amps out there that deliver a ton of gain (think high-end Bogners), but I don't know of many that do it in a 1×12 combo. It's definitely an amp that can cut through the mix (the highs are cutting without being shrill), but the cabinet and speaker combination really have some tight, focused lows. The resonance and presence controls allow a lot of tonal versatility, so if you want more traditional "Brown" sounds, they're here, but you can also get some nice scooped metal sounds as well. This is simply a perfect portable amp for metal, shred, and rock tones.
The lead channel is everything you want from a high-gain combo, and the rhythm channel similarly offers fine crunchy and distorted sounds for both rhythm and lead. EQ-wise, it's probably not the best amp choice if country or blues is your thing, but I was able to dial in some warm jazz/fusion sounds that reminded me of Larry Carlton at times. The amp loves strong pickups, especially humbuckers and P90s, though some stacked Duncan pickups sounded really good as did Joe Barden Tele pickups.
Final Thoughts
Although the Peavey 6505+ combo is an amp that favors metalheads and shredders, the portability and flexible EQ will appeal to a wide variety of players across several high-gain genres. If shredding and sweep picking are your thing, then the 6505+ is a great amp at a very appealing price.
Name of Gear: Peavey 6505+ 112 Combo
List Price: $719.99
Manufacturer Info: Peavey Electronics, peavey.com
Pros: Hugh, tight lows; massive gain on tap; versatile rhythm channel; nice reverb
Cons: Non-switchable reverb; a bit heavy