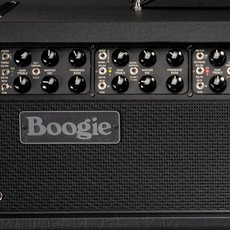 The Mesa/Boogie Mark V is an amp that can be used in studio and stage with the ultimate in flexibility.
The Mesa/Boogie Mark V is a much anticipated revision of the highly regarded Mark IV serious. Few amp makers can generate as much buzz as Mesa/Boogie. After all, this is a company that has given guitar players some of the most loved guitar amps over the past thirty years. Personally, I was both excited and skeptical about the Mark V if for no other reason that the Mark IV has been one of my main guitar amps for the past ten years, and it has served me incredibly well during that time. So it would take quite an update for me to consider taking its place. Is the Mark V a worthy successor to the much heralded Mark IV? Let's find out.
Specifications
The folks at Mesa/Boogie actually see the Mark V as a tribute to some of the company's best known and beloved amplifiers. So, the amp contains tones attributed to the Mark I, the Mark IIC+, and (thankfully) the Mark IV. The Mark V is a three channel amplifier with distinct differences in the channel voicings. All three channels share a similar layout, with identical controls for Gain, Master, Presence, Treble, Mid, and Bass. Similarly, the three channels can all equally access the amp's 5 band equalizer. Finally, you can assign various power settings to each channel as well. However, each channel does have unique voicings and toggle switches to access the various sounds within each channel.
Channel 1 can best be thought of as the "clean" channel with a mini-toggle offering Clean, Fat, and Tweed modes as well as a choice between Normal and Bold operation. Channel 2 offers Edge, Crunch, and Mark I modes as well as a choice of either Normal or Thick operation in Mark I mode. Finally, Channel 3 is the most gain-heavy channel, offering Mark IIC+, Mark IV, or Extreme modes with a Normal/Bright switch selectable for all three modes. Individual reverb controls are also available on each channel.
Other features include a 5 band graphic eq, a buffered effects loop (fully bypassable), slave out with level control, a footswitchable solo level control, tuner output with footswitchable mute, overall volume control, and footswitch that controls channel switching, solo, reverb, effects loop, tuner mute, and EQ. The amp is available as either a head or combo. Due to the weight of the combo (around 90 lbs), I tested the Mark V head with a 2×12 Mesa Rectifier cabinet and a Marshall 4×12 cabinet.
Performance
Let me say from the outset that the layout of the Mark V is far superior to the Mark IV. While the Mark IV is an incredible amplifier, easy to use it ain't! Sure, I've had ten years to adjust to the front panel controls, but I have to admit. It took a while. The Mark V might look intimidating at first, but as long as you know that each channel has independent, dedicated controls, you should find using it much easier.
I started with channel one, the clean channel, and took the time to engage all three voicings for this channel. My test guitars were a Gibson Les Paul Standard with Seymour Duncan pickups and a Fender Road Worn Telecaster with Joe Barden pickups. For lack of a better description, I would call this the "Fender" clean channel, since it's capable of some classic tweed sounds as well as crystal clean if needed. It's honestly one of the best clean sounds I've ever heard. Very versatile with a sweet, fat sound. Should you want to use a variety of pedals with the Mark V, you can easily dial in a very "pedal friendly" tone with channel 1. For funk, jazz, and country, channel 1 is tough to beat.
I was most curious to try out channel 2, since the Mark I is the amp that put Mesa/Boogie on the map. I was really bummed out when they discontinued the Mark I reissue recently. It turns out, though, that the Mark V incorporates an exact replica of the original Mark I circuit with even more tonal options in channel two. This is also the semi-dirty channel, so if you need some roots, blues, or dirty rhythm sounds, this is the place to be. My favorite mode was, of course, the Mark I setting, particularly the thick voicing. It fattened up my Telecaster quite nicely and found it a great sound for mild breakup and singing classic rock sounds (yep, you can get some great Santanna sounds here). A good overdrive pedal can also really push this channel well. Overall, this was my favorite setting on the entire amp, as it cleaned up nicely from my guitar volume knob when needed.
But this is a Boogie, and that means there's generally a lot of gain on tap when needed. The Mark V is definitely no exception to this. The third channel is one of the most versatile gain channels I've ever seen from a Boogie. The Mark IIC+ sound is there in all its glory, as is the Mark IV high gain that I've come to love over the years. If you want even more intensity, the Extreme mode will melt the windows in your house if you're not careful. Pretty much any type of lead tone you want to find can be found here if you fiddle long enough.
Final Thoughts
It's not a cheap amplifier by any stretch. New street prices run around $2,000, but if you want an amplifier than can cop some of the best-loved Mesa/Boogie sounds over the last twenty years, the Mark V will definitely make you happy. It's an amp that can be used in studio and stage with the ultimate in flexibility. Only purchase the combo, though, if you have either a very healthy back or roadies, because this amp is heavy. I recommend the separate amp/cab configuration.
Name of Gear: Mesa/Boogie Mark V
List Price: $2,099.00
Manufacturer Info: Mesa/Boogie Ltd.; mesaboogie.com
Pros: Extremely versatile; excellent recreation of classic Mesa/Boogie amps
Cons: Heavy