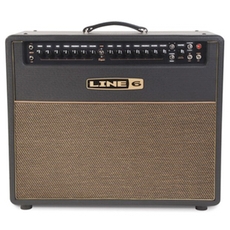 All-in-all, the Line 6 DT50 is a first rate tube amplifier with a wide variety of sounds at a fair price. Its numerous interface options only increase its appeal.
Line 6 put themselves on the map nearly 15 years ago with the release of the original AxSys combo amplifier. They turned many heads with their claim that digital modeling technology could effectively model or emulate traditional tube amplification. Not long after the AxSys came the POD, which took the recording technology community by storm and made believers out of previous skeptics. Still, there were people who used the POD daily who were still skeptical about guitar amplifiers, which are a much different beast.
Ironically, the company that has for years preached the gospel of digital modeling has released their most traditional amplifier to date, the DT50 series, which eschews tons of digital effects and esoteric amp modeling to offer a new take on amp modeling that focuses on fewer but more accurate tones and instantly reconfigures itself based upon desired sounds. Does it succeed? Let's find out.
Specifications
I reviewed the DT50 1×12 combo, which is an advanced HD modeling amplifier designed in conjunction with Reinhold Bogner. The amp features 2 12AX7 preamp tubes and 2 EL34 power amp tubes. The amp is switchable from 25 to 50 watts. The amp's dual channels each features controls for drive, bass, mid, treble, presence, volume, and reverb. A master volume controls the overall output. The amp features an instantly reconfigurable signal path (either Class A/Class AB; either Pentode or Triode oepration). The amp offers four voicings or "topologies" that emulate classic amplifiers: classic American (Fender), British crunch (Marshall), British chime (Vox), and modern high gain (Mesa or Bogner).
The 1×12 version also features a 12″ custom designed G12H90 Celestion speaker with 4, 8, and 16-ohm speaker outputs. An XLR direct out (with ground lift switch) is standard, which features cabinet simulation. For outboard effects patching, a serial effects loop is included (with level control) as is a footswitch for changing channels. MIDI IN/OUT is also standard. Finally, the amp sports the Line 6 LINK which allows for complete integration with the Line 6 POD HD. The amp weighs approximately 63 lbs.
Performance
It was quite a shock to see a Line 6 amplifier that doesn't claim to model every effect or guitar amplifier ever made. I have to be honest. Though I've always appreciated Line 6 amps and especially their effects and amp modeling, when I have used Line 6 amps, I never used more than a few amp models (generally 2 or 3) and hardly any of the effects except for a little post-amp delay. I prefer my own pedalboard, so the philosophy behind the DT50 is one I can appreciate. Less is more, right? But how does it sound?
The sounds are very impressive. The DT50 is still a modeling amp; however, it uses digital technology in conjunction with real tubes that reconfigure themselves on the fly as you choose different topologies. I found each of the different basic sounds captures the basic feeling and sound of the respective amps it's intended to model. Also, it's worth nothing that you can assign the same topology to both channels, albeit with minor differences. So, if you want a classic Marshall crunch along with a more intense Marshall overdrive, it's easy to dial that up.
If you have a new Line 6 POD HD, it can open up countless more sounds and effects, which is really the best of both worlds. One thing I hate about onboard effects on an amp is that it's a pain to adjust them. I want the controls at my feet where they belong. The DT50/POD HD integration is very well designed because you get the classic amp feel from the DT50 and the numerous amp models and effects from the POD HD. Very smart of Line 6 to be so forward thinking in this regard.
Final Thoughts
The "X-factor" that the DT50 helps capture is the feel of a well-maintained tube amp. Yes, tube amps do feel different than pure solid state or digital amps. It's not a judgment, just fact. And the DT50 does a great job in capturing the basic ethos of each of the amps it models. My favorite topologies are the classic American and the classic Marshall sounds, and I also appreciate the little things like the panels that light up under a dark stage. All-in-all, the Line 6 DT50 is a first rate tube amplifier with a wide variety of sounds at a fair price. Its numerous interface options only increase its appeal.
Name of Gear: Line 6 DT50 1×12 Combo
List Price: $1,849.99
Manufacturer Info: Line 6, Inc.; line6.com
Pros: Wide array of sounds; logical controls; excellent interface options
Cons: Heavy