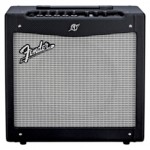 With the Fender Mustang II, you have a killer practice amp, a solid backup amplifier, and a decent gigging amp that offers great connectivity and room for tonal expansion.
The Fender Mustang II is an amplifier that defies easy categorization. With its low price and low weight, you might be tempted to label it a practice amp. However, once you open the amp up a bit and explore the sounds within this 40W 1×12″ package, you realize that the Mustang is one versatile little pony, capable of covering a wide number of musical situations. Can it cover more than just practice amp duties? If so, can a $200 modeling amp really be as good as Fender claims? How does it stack up to the competition? Let's look at the amp in greater detail and find out.
Specifications
As previously mentioned, the Mustang II is a 40W single channel amplifier preconfigured with 24 presets based on the included 8 amp models (based on classic and contemporary amp designs from Fender, Marshall, and others). A wide array of modulation, delay, and reverb effects are available as well. Connectivity options include a 1/4″ guitar input, 1/8″ aux input for CD/mp3 players, and a 1/8″ headphone jack which can also be used as a speaker-compensated line out. For the ultimate in expansion and creativity, a USB port is also included that can be used for recording to a computer via the included Ableton Live Lite software. You can also connect via USB and Fender's FUSE software to Fender's online community that lets you download further presets and have greater control over editing amplifier and effects parameters.
Performance
I tested the Mustang II with a Fender Eric Clapton Stratocaster which is a guitar I use for a variety of gigs given its versatility. With the amp's low weight and variety of tones, it's obviously usable as a practice amplifier. Weighing less than 25 lbs, you can easily transport a guitar in one hand and the amp in the other. The 1/8″ input jack is useful for connecting an iPod, metronome, or other useful practice too. I have about 200 jam tracks that I've made myself that I keep on my iPhone, and they sounded just fine running through the auxiliary input.
The useful number of amp models present combined with the 12″ speaker and 40W power rating make this amp more than just a practice amp however. I took the amp to a weekend gig with a top 40 group I play with on occasion and decided to try the Mustang II out on a few songs during the middle set. The songs ranged from Clapton and Van Halen to Chuck Berry and Stevie Ray Vaughan, so I was curious if the amp could handle such a wide range in a band context. We miked the Mustang II with a well-used but reliable Shure SM57, and both me and my bandmates were surprised at the tones that came out of this little beast. It's refreshingly easy to use as well.
I decided to forgo my pedalboard when I used the Mustang II as my main amp and was pleased with both the amp and effects models. As you might expect, the Fender clean models were very well done (I later tried my pedalboard with the clean channels and was very pleased with how my array of pedals sounded with the clean Fender models). The effects also sounded very good, though I wish there were separate controls for delay and reverb. The biggest surprise was the depth of sound available with the overdriven and distorted sounds. It was like a Marshall in a box! Sure. The amp doesn't feel and react like a tube amp, but that's not the point. Keep in mind this is a $200 amplifier. It's an amazing bargain.
Even without the Fender FUSE connectivity, the Mustang II is a great amplifier. However, once you add the online connectivity and explore the wide array of presets, amp models, and effects modifications available via FUSE, the amp becomes an even greater bargain. The software is available in both Mac and PC versions, so most users will be able to join in on the fun. I had no problem connecting the Mustang II to my MacBook Pro running either OS X or Windows 7.
Final Thoughts
In the end, what you're left with is a killer practice amp, a solid backup amplifier, and a decent gigging amp that offers great connectivity and room for tonal expansion. Few amplifier manufacturers know how to make a reliable, usable, and inexpensive amplifier as the folks at Fender do. Given its price and range of versatility, you can't really make a bad decision here. Both beginners and pros alike can find something to love with the Fender Mustang II.
Name of Gear: Fender Mustang II
List Price: $269.99
Manufacturer Info: Fender Musical Instruments; fender.com
Pros: Versatile; inexpensive
Cons: None significant