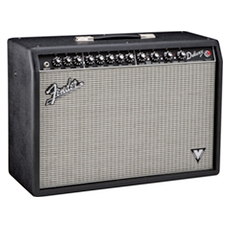 If you're looking for an all tube amp that also offers usable onboard effects, the Fender Deluxe VM is a superb choice.
The Fender Deluxe VM has a lot to live up to. After all, any amplifier with the words "Fender" and "Deluxe" in it sets up a host of expectations. Fortunately, the Deluxe VM doesn't disappoint. Rather than a pure tube amp or a pure digital amp, this particular Fender has an interesting take on the best approach for guitar amplification. The amp is a tube combo with an onboard digital effects section. Let's take a look at the details and then see how the amp fares.
Specifications
I tested a 40W Deluxe VM with a 1×12 Celestion speaker. It's a two channel amp with standard clean and overdrive channels powered by 2 12AX7 preamp tubes and 2 6L6 power amp tubes. The clean channel has controls for volume, treble, and bass whereas the overdrive channel offers gain, volume, treble, mid, and bass controls. The effects section features onboard reverb, delay, and chorus/vibrato with adjustable parameters for the delay and chorus/vibrato effects. Other effects may be patched in through the effects loop. A cover and footswitch are also included.
Performance
I tested the amp with a new Fender American Deluxe Stratocaster. I chose to check out the clean channel first. After all, if any company knows how to produce a good clean sound, it's Fender. Think of how many other amps use "Fender clean" as their benchmark, right? Fortunately, the clean sound doesn't disappoint. You might think that with the scarcity of controls that the sound wouldn't be as rich as it is, but you'd be wrong. If you think of the best Fender 1×12 sounds such as a Deluxe Reverb or the newer Hot Rod series, then you'll have an idea what to expect with the Fender Deluxe VM. It sounded rich, full sans any effects, but adding a touch of delay and chorus put me in Andy Summers territory pretty fast. The onboard reverb is also worthy of the Fender trademark. I also tried the clean channel with several overdrive and distortion pedals, and, true to form, it's a very pedal-friendly channel. Definite thumbs up on the clean channel.
Fender isn't exactly known for their overdrive sounds, so to be honest, my expectations were pretty low for the gain channel. While it won't satisfy any shredders, it's definitely a usable channel for blues and classic rock sounds. It actually reminds me of older Mesa Boogie Mark I and Mark II sounds, which isn't too shabby. You can use your overdrive and distortion pedals with this channel as well if you want to push it into more deadly territory. The channel can definitely cover everything from Clapton to Page to Van Halen without any extra gear. It also cleans up nicely using the guitar's volume knob, a true test of any amp's usability.
While it doesn't contain dozens of different effects, the ones it does include (reverb, delay, chorus/vibrato) are totally usable and offer a wide array of adjustable parameters. The effects are completely digital, including the reverb, so they're clean and totally noise free.
Final Thoughts
If you're looking for an all tube amp that also offers usable onboard effects, the Fender Deluxe VM is a superb choice. A fusion of old and new technology, it's especially suitable for the guitarist who needs a lot of sonic versatility in an easily transportable package. For the right player, it might be the ultimate all-in-one gigging solution.
Name of Gear: Fender Deluxe VM 40W 1×12 Combo
List Price: $1,079.99
Manufacturer Info: Fender Musical Instruments; fender.com
Pros: Excellent integration of tube and digital technology; excellent clean and overdriven sounds
Cons: None significant