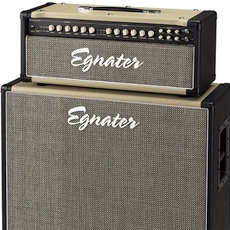 If you want a low cost amplifier that can cover a lot of ground, take a look at the Egnater Renegade.
Bruce Egnater has a well-earned reputation for building high end guitar amps with great tonal versatility and exceptional build quality. Suffice it say, Egnater is an amp guru with few peers. So, it was somewhat surprising when he changed his focus from the Egnater custom shop to lower priced made-in-China amplifiers.
The question was simple – do the Chinese made Egnaters have the same build quality and sound as his American-made amps? Thus far, the verdict has been overwhelmingly positive. After all, Bruce is unlikely to put his name on a series of amps that do not further the positive legacy and reputation of Egnater. The two channel Renegade 65W Amp Head is one of the more popular of the Chinese-made Egnaters. The question still remains, though. Is it worth of the Egnater name? Let's see.
Specifications
As already mentioned, the Renegade is a two channel amplifier. The first channel is the primary clean channel, though it can provide a bit of dirt when pushed. Channel two is the main drive channel, offering tones from bluesy overdrive to thick, powerful distortion. Both channels feature independent controls for volume, gain, and 3-band EQ as well as tight and bright voicing switches. The Renegade also features a selector switch that let's you pick from 18w and 65w, as well as a blend control between the 6L6 and EL34 power tubes. Master Presence and Density controls are standard equipment as are individual reverb controls. Main and secondary master volumes are also available (useful for solo boosts), giving the Renegade a wide variety of tonal control.
A 4-Button footswitch lets you select channels plus assign the reverb, effects loop, and secondary volume to the individual channels or to both. Egnater provided a simple means of bias adjustment, offering external test points so you don't need to open up the amplifier to adjust the bias. Finally, the amp sports a buffered effects loop and balanced XLR and 1/4″ cabinet voiced line out. A heavy duty cover is also included. I tested the amp with an Egnater 2×12 cabinet.
Performance
It's obvious after you look at the specs of the Egnater Renegade that you're looking at an amplifier that was designed by a master technician. If you know anything about guitar amplifiers, you know that Bruce Egnater is a master, and it's clear that he has incorporated a lot of common sense innovation into this amplifier. Having such precise control over each individual channel (each with its own unique voicing) is pretty nifty on its own, but how many amplifiers let you blend 6L6 AND EL34 power tubes? Or allow you to switch between 18w and 65w? Again, in the same amplifier? Not too darn many. So, Egnater gets the nod for innovative design. That's for sure. But how does it sound?
Since the Renegade offers such a wide array of sounds, I thought it would be best to test it with a number of different guitars, so I brought out a Fender Telecaster and Stratocaster as well as a Gibson Les Paul, SG, and ES-335. With the two hours I initially spent with the Renegade, I spent the first hour with the clean channel. It's not a sparkling JC-120 kind of a clean, more like a vintage Marshall with a good bit of headroom. It's a very pedal-friendly type of clean and can easily be pushed into a mild blues overdrive. If I had to succinctly describe the sound, I would call it a "tough clean" sound overall.
The second channel picks up where the first one leaves off. If you so choose, you can voice the gain channel for a clearly British-inspired overdrive, especially if you use the EL34 mode power amp mode. It's not a pure Marshall sound. The sound is a bit more "round" than old JCM800 amps. Think of it as an old Marshall with a modern twist. If you venture into pure 6L6 territory, the Renegade can definitely score some modern lead tones, though it's probably not suited for the amount of ungodly gain of the most extreme American amps. Still, it's capable of over-the-top overdrive that still stays well defined. Using the tight and deep switch was especially noticeable in the high gain channel.
The Egnater 2×12 cabinet was also a significant part of the equation with this test since it's capable of both closed and open back options. Not too many cabinets provide the versatility of the Egnater cabinet, and it only adds to the wide array of sounds present with the Renegade.
Final Thoughts
Perhaps only one question remains. How does a made in China amp stack up to American or British made amps? Let's not forget how many quality items – from laptops to effects pedals – are made in China. What matters is the quality control the manufacturer employs, and I can testify that Egnater amps use the best quality control teams in the business. It plays and feels like a handmade amplifier. If you want a low cost amplifier that can cover a lot of ground, take a look at the Egnater Renegade. For the price (or even a lot more), it's tough to beat.
Name of Gear: Egnater Renegade
List Price: $999.99
Manufacturer Info: Egnater Custom Amplification; egnateramps.com
Pros: Inexpensive; solid clean and overdrive tones
Cons: None significant