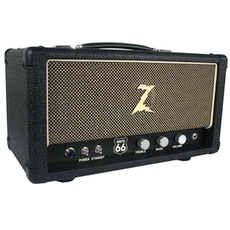 If you need an affordable amp that can cover most blues and classic rock tones without bankrupting you, the Route 66 is definitely worth a listen.
Few so-called "boutique" amplifier companies have achieved the level of devotion and success of Dr. Z amplifiers. Part of the reason why Dr. Z fans are so loyal is that this is a company that is the very definition of "under promise and over deliver." Most of their amps are, on the outside, deceptively simple. When you see the price tags, you might be tempted to think that they can't be that good, but when you plug in, all your doubts are whisked away by a veritable tone avalanche!
The heralded Dr. Z Route 66 head is one such amp. It is continually one of Z's best selling models, but the company has, wisely, decided to leave well enough alone. What is it about this little tone monster that has everyone from Mike Fuller to Buddy Whittington singing its praises? Let's find out.
Specifications
The Route 66 is a 32 watt amp head powered by a KT66 output tube duo (hence the name), which gives the amp a different flavor from the more common 6L6 & EL34 powered amps that dominate the market. The preamp tubes consist of a single 12AX7 and EF86, the latter being particularly unique these days (though at one time the EF86 powered classic Vox AC15 amps from the 1950's). These days, it can be found on high end stereo systems. A GZ34 rectifier tube is standard as well. Regardless, it provides a great deal of headroom and playing dynamics. Control wise, it doesn't get much simpler than the Route 66. It has single knobs for treble, bass, and volume. Available colors include black, blonde, and red. I opted for the blonde, since they are supposed to have more fun.
Performance
As you turn up the volume of the Route 66, you'll notice that this amp doesn't necessarily distort or overdrive like most amps you may have played. Rather, the overall tone becomes bigger, fatter and the playing dynamics become even more pronounced. That's not to say that this amp cannot get painfully loud. It definitely can. But it's a thick, creamy loud, not heavily distorted or even overdriven. So, you'll want to bring along an overdrive and/or distortion pedal to push the amp if you need some cutting lead tones.
Personally, I think the amp sounds best with Tubescreamer-based overdrives rather than metalesque distortion. Playing with an Eric Johnson Stratocaster, I tried out a Fulltone Fulldrive, Keeley Modified BD-2, and, of course, a Visual Sound Route 66 to push the Dr. Z Route 66 and fell in love with the sounds I got. The amp's bottom end remained tight and focused, never flabby, while the amp's high end could easily cut through a heavy mix without sounding harsh. Every note was cleanly and clearly articulated and responded incredibly well to all playing dynamics. If you've got the stage space, using a Route 66 in conjunction with, say, a Dr. Z MAZ 18 Jr. NR would provide the ultimate in tonal versatility – just make sure you've got a good set of earplugs!
Final Thoughts
Like all Dr. Z amplifiers, the Route 66 is an incredible deal for the money, especially in a handmade amplifier. If you need an affordable amp that can cover most blues and classic rock tones without bankrupting you, the Route 66 is definitely worth a listen.
Name of Gear: Dr. Z Route 66
List Price: $1,659
Manufacturer Info: Dr. Z Amplification; drzamps.com
Pros: Inexpensive; excellent overdrive sound; thick, rich tone
Cons: None significant