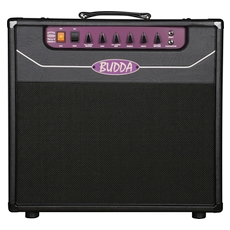 The Budda Superdrive II fills a needed void in the guitar amp market and would make a fine addition to any guitar player's gear locker.
Budda amps are somewhat of a hidden player in the mid to high end guitar amplification market. They enjoy an excellent reputation and are renowned for their sound and quality, but they don't yet have the recognition of, say, Marshall, Fender, or Mesa Boogie. That's unfortunate because Budda amps, which are now owned and made by none other than Peavey, are some of the finest guitar amps around. The partnership with Peavey will hopefully increase their reach because they deserve to be seen and heard. The amp I reviewed is the 18 watt Superdrive Series II Combo 1×12. Though it's not an amp that has a lot of sexy controls or a dozen different ancillary features, it does have an excellent tone that comes at a fairly reasonable price. Let's see what the folks at Budda have to offer with this micro powerhouse.
Specifications
Budda has specifically designed the class AB 1×12 18 Watt version to be used in clubs and studios. The lower wattage allows the EL34 power amp tubes to be pushed to the maximum, resulting in natural compression and long sustain. A two channel amp, a 5U4 rectifier tube complements the EL34 power amp tubes. The preamp is powered by 3 12AX7 preamp tubes. Budda's own Phat 12 speaker is used in the relatively light 40lb package. Both channels (rhythm and high gain) share treble, mid, and bass controls, though the rhythm channel also sports a pull bright switch. A pull switch on the mid control activates the "modern" EQ mode. An effects loop and slave out complete the feature set.
Performance
Since I get most of my distortion and overdrive sounds from pedals, the first thing I check with any amp is the clean channel. If it doesn't provide enough sonic versatility for me regarding my pedals, then I'm out. Fortunately, the Budda Superdrive didn't disappoint me in this area. The clean sound, while not completely Fenderish, definitely gets you into Deluxe Reverb territory (minus the reverb, since the Budda doesn't include one). Though I do miss an onboard reverb for clean sounds, running a Boss reverb pedal through the effects loops worked just as well. Though it's not completely Fender clean, the rhythm channel is incredibly versatile and has a tone that helps cut through a busy mix, which is always welcome. Even without the pedals, I was able to get some great sounds, usable for everything from funk to slightly dirty blues. Very nice.
Once I put the clean channel through its paces, it was time to give the high gain channel a try. The only effect I relied upon was a Boss digital delay in the effects loop. Using some of the suggest settings from the manual, I was able to dial in everything from blues crunch a la SRV to the most soulful singing lead sounds made my Santana impersonation not quite so embarrassing. The lead channel is equally versatile as the rhythm channel, offering everything from blues and classic rock to full blown shred. Being able to crank the amp completely open due to its low wattage probably doesn't hurt, but make no mistake about it. This 18 watt amp is conservatively rated. It can definitely rattle your fillings if you're not careful.
Final Thoughts
There's only a few things that I wish Budda had done better here. Dedicated tone controls for each channel would be nice, but that would likely rob the Superdrive II of its beautiful simplicity (it's nice to have an amp that doesn't have two dozen knobs and switches for a change). Similarly, a reverb would be useful as well, but then again, I'm also thankful for the amp's low weight and ease of use. All in all, the Budda Superdrive II fills a needed void in the guitar amp market and would make a fine addition to any guitar player's gear locker.
Name of Gear: Budda Superdrive II
List Price: $1,795
Manufacturer Info: Budda Amplification; budda.com
Pros: Solid sounds; inexpensive; lightweight
Cons: No reverb