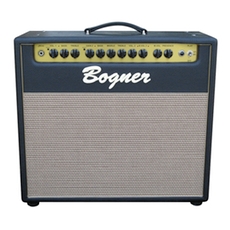 If you want a well-built amp that can cover a lot of American and British territory, the Bogner Shiva might just be what you need.
Reinhold Bogner has a well-earned reputation for building world class amplifiers that are roadworthy, versatile, and chock full of gain. The Bogner Shiva is no exception. In a relatively small (though quite heavy) package, the Shiva amplifier provides the guitarist looking for heavy blues, rock, and metal tones with a powerful tool for guitar amplification. It's a pricey but powerful option. Let's take a look at what makes the Bogner such an amazing amplifier.
Specifications
I reviewed the 80 watt 1×12 combo. It's a two channel amplifier with reverb powered by two EL34 power amp tubes (the Shiva is also available in a 6L6 60 watt version) and 12AX7 preamp tubes. It also features a tube-powered reverb and effects loop. Channel 1 sports bass, treble, and volume controls as well as a bright switch; channel 2 features bass, middle, treble, gain, and volume controls in addition to the bright switch. There is a global master volume and presence control. The included footswitch controls channels switching, boost, and reverb. It has a Celestion Vintage 80 speaker with a ported cabinet for increased projection.
Performance
The first thing you'll likely notice if you opt for the combo version is that this is one heavy amplifier. Seriously. We're talking back-breaking, "Oh dear God I just threw my back out" 70 lb 1×12 combo heavy. So, if you live on the third floor or don't have the girth to haul around a 70 lb combo, you need to consider the separate head and cabinet version.
The second thing you'll notice one you turn the amp on and start dialing in some tones is that the sound is equally heavy, if you need it. Bogner is known for its killer high-gain sounds, which live on channel 2. It definitely delivers in that area. Keep the gain around 5, add a boost pedal or a little overdrive, and you're in classic "brown sound" territory. Turn the amp up to or past 7, and you'll be able to nail serious cranked Marshallesque tones with ease. This isn't an über gain amp (though Bogner does have amps in that territory), if you want an English-style amp with plenty of gain on tap, the Shiva is sure to satisfy.
But don't think the Shiva can't clean up if needed. Channel 1 is perfect for clean, chimey "Fenderish" sounds, and the onboard tube-driven reverb is absolutely beautiful and helps nail these classic clean sounds. The reverb, by the way, features independent level controls for each channel, so if you want a lot of reverb on the clean channel but just a touch on the drive channel, that's easy to do.
Final Thoughts
My complaints are few. Aside from the weight (seriously, it really is heavy), there's not much to complain about. The Bogner Shiva just exudes world-class construction. If you want a well-built amp that can cover a lot of American and British territory, the Shiva might just be what you needed. You would be hard pressed to find a sound that's not chock full of tone. From Fender clean to Marshall grind, it's all here. It's not cheap, but it also might be the last amp you ever buy.
Name of Gear: Bogner Shiva
List Price: $2,876
Manufacturer Info: Bogner Amplification; bogneramplification.com
Pros: Wide range of American and British sounds; beautiful reverb
Cons: Extremely heavy; expensive