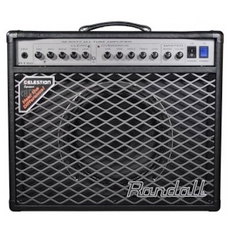 The Randall RT50C is a fine workhorse amplifier for metal and shred guitarists who need an occasional clean or mild overdrive sound.
For the longest time, Randall amplifiers was known for their solid state designs. They were good for what they were, but the company eventually realized that most players want glowing glass in their amps, not glowing transitors.
Now owned by US Music Corp (Washburn, Parker), Randall amplifiers offers a variety of tube amplifiers in a range of prices. The RT50C is an amplifer aimed at the hard rock and metal crowd. Let's see if this amplifer sounds as tough as it looks.
Specifications
The RT50C Combo is a 50 watt amplifier powered by 2 6L6 power amp tubes (user swappable for EL34s if desired) and 12AX7 preamp tubes. The amplifier sports two discrete channels (clean and overdrive) with individual controls for gain, bass, middle, treble, and level. The clean channel features a bright boost switch. The amp has master controls for reverb and volume. The front speaker grill is a tough but attractive metal grate.
The rear of the amplifier features a user-friendly biasing section that allows the player to bias and match his own tubes for proper tube replacment. A series effects loop is standard and allows for either pedal or rack effect. The amp also includes a 12″ Seventy-80 Celestion speaker and footswitch that controls the channel, reverb, and effects loop.
Performance
It's obvious from the amp's look that it's geared for the rock, metal, and shred crowd, so I logically started with channel 2, the overdrive channel. I was immediately impressed by the amp's overdrive. The adjectives "thick" and "creamy" immediately came to mind. It has an edge that most hardcore players would like, though I'm not sure it's really good for blues work, since there isn't much subtlety here. Still, for balls-to-the-wall metal and shred, it excels.
The clean channel adds a nice touch, with Fenderish cleans available at lower gain settings and a mild overdrive at higher gain settings. The reverb added some depth to this channel, though the 'verb won't be mistaken for a '65 Deluxe Reverb anytime soon. Still, for the price point, it's pretty good. Again, if you're a metal or shred player who needs an occasional clean tone or a "dirty" rhythm channel, you'll be satisfied.
Final Thoughts
The Randall RT50C is a fine workhorse amplifier for metal and shred guitarists who need an occasional clean or mild overdrive sound. It's not the most versatile amp around – blues players need not apply – but what it does, it does very well at a nice price.
Name of Gear: Randall RT50C
List Price: $1,049.98
Manufacturer Info: US Music Corp; randallamplifiers.com
Pros: Good clean and lead channels; excellent hard rock sounds; great value
Cons: Lackluster reverb
Find your new or used Randall RT50C for sale on eBay today!