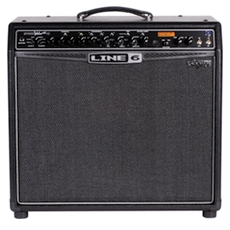 The Line 6 Spider Valve MKII, which is the marriage of old and new technology – a digital modeling section coupled with a tube amp section – might just be a glimpse into the future of guitar amplification.
The Line 6 Spider Valve MKII is the company's latest foray into the fusion of digital amp modeling and tube technology. Although Line 6 didn't invent amp modeling (that honor belongs to Roland), it's common knowledge that they popularized it through such amplifiers as the AxSys, Flextone, Spider, and Vetta and other gear such as the ever-popular Line 6 POD. They've also demonstrated that modeling technology has the potential to greatly supplement if not yet replace traditional tube technology.
Though Line 6 has for years has trumpeted the value of modeling-only technology, they have recently recognized that the union of digital and tube offers the best of both possible worlds – the versatility of digital modeling with the warmth and sensitivity of tubes. The question remains, though, is the hybrid modeling technology worth it or is it just a marketing gimmick? Let's look at the amp in more detail and find out.
Specifications
I tested the 1×12 Line 6 Spider Valve MKII, which includes a few upgrades over the original. It's a 40W amplifier that sports a digital modeling section in addition to a class AB tube amplifier powered by two 12AX7 preamp tubes and two 6L6 power amp tubes. The 45 lbs amplifier features a single Celestion Vintage 30. The amp includes 16 models of such well known amplifiers as the Fender Twin Reverb, Vox AC30 Top Boost, Marshall Plexi, and Mesa Dual Rectifier. Also included are 20 Smart FX (use up to four at once) including compressor, wah, overdrive, distortion, chorus, delay, flanger, phaser, tremolo, pitch shifting, and more. A tuner is accessible from the front panel.
A Line 6 floorboard controller is also available, which adds computer connectivity to the amp so you can expand the tones further. Of course, the controller also facilitates live use. The amp features 36 user programmable channels in addition to over 300 presets covering a wide range of sounds from metal to country. A wide range of connectivity options are available, including a POD XLR direct out, speaker output jacks for exterior cabinets, and power amp jacks to allow the Spider Valve to work as an all tube power amp for a POD or other amp modelers.
Performance
I tested the Spider Valve with a Fender American Deluxe Stratocaster (HSS configuration). I have to admit that, initially, I was skeptical about the tones I would get from this amp. I've actually been a fan of Line 6 for a long time. I think the POD has been one of the greatest inventions for guitarists and bassists for a very long time.
But that's primarily a recording tool. I have used Line 6 amps in the past, and while I've always been impressed by the variety and realism of the amp models, I was never impressed with the feel of the amps. I personally found a simple tube amp and an array of pedals much easier found its place in a band mix much easier than any Line 6 amp I had tried. They were good – don't get me wrong – they just didn't respond or move air the way my tube amps did.
Suffice it to say, the Spider Valve MKII has upped the ante considerably. The digital modeling section of the amp does an excellent job of capturing the basic flavor of each amplifier. From Fender to Marshall, Vox to Mesa, the voicings that have made these amplifiers unique are easily heard in the Spider Valve. What sets the amplifier apart is how the tube amp section (designed by none other than master amp guru Reinhold Bogner) help capture the feel of each amplifier as well. The warmth and responsiveness of the tube amplifier coupled with the versatility of the digital modeling is the ultimate fusion of new and old technology.
The effects, as you might expect, are typical Line 6, which is to say that they're very well done. The amount of control you're given over each effects parameter is enough to satisfy even the most demanding pedal junkie. Adding the FBV Shortboard MkII controller allows even more flexibility. Finally, Line 6 made the amplifier actually easy to adjust and modify. Couple this ease of use with the inclusion of such common-sense features as a tuner, recording outs, and full MIDI implementation, and you've got a full-featured performing and recording solution.
Final Thoughts
The Spider Valve MKII has definitely changed my mind about the usability of Line 6 amps. Nobody knows why tubes affect playing dynamics and feel, nor why they provide an "oomph" that modeling and solid state amps seem to lack, but the difference is noticeable. Obviously, Line 6 noticed it as well, and their new Spider Valve series is a nod to this tube magic.
Although the Spider series has always been associated with the budget or beginner level amps, the Spider Valve MKII takes these amps to a whole new level. The amp models took on a new life than I've ever heard with Line 6 products before. You need to keep in mind that the Spider Valve Mark II tube amp section was designed by Reinhold Bogner, who knows a thing or two about designing tube amps. This marriage of old and new might just be a glimpse into the future of guitar amplification.
Name of Gear: Line 6 Spider Valve MKII
List Price: $1,069.99
Manufacturer Info: Line 6, Inc.; line6.com
Pros: Excellent union of digital and tube technology; wide array of amp and effects models
Cons: Stock tubes a bit uninspiring