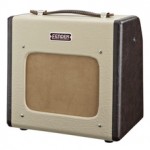 The Fender Champion 600 is a quality practice and small gig tube amp that allows you to explore the beautiful tones of a cranked tube amp without hearing damage or a broken back.
The Fender Champion 600 is a guitar amplifier with a long history attached. The original Fender Champ, introduced in 1948, was in Fender's lineup for over 30 years. With its über-simple design, the Champ was a longtime favorite of guitarists, especially in the recording studio, since its low-wattage design allowed the amplifier to be cranked without causing one's eardrums to burst.
Rumor has it that former Ozzy guitarist Randy Rhoads showed up at his audition with a Fender Camp while the competition sported huge Marshall stacks. The singing tone of the Champ was good enough for Ozzy to give Randy the gig. Many sound engineers prefer the sound of cranked, smaller amps for recording, and the Champ has been a celebrated favorite. But what's the verdict on the new model? Let's take a look at the specs and see what's under the hood.
Specifications
The Champion 600 is a 5 watt combo amplifier with a 1×6″ speaker. It features a single 12AX7A preamp tube and a single 6V6 rectifier tube. It sports dual high and low instrument inputs and a single volume control. The amp weighs in at 15 lbs.
Performance
When I first laid eyes on the Champion 600, I thought it was going to be either hit or miss. After all, there's only a single knob. With most amps, you can play around with the controls to get the kind of sound you want, but I knew that the Champ would be a "one-tone" pony. So what's the verdict?
Hit!
I tested the amplifier with a Gibson Les Paul Standard and a Fender American Deluxe Telecaster. I also had on hand a number of overdrive pedals, including a Visual Sound Open Road, a Fulltone Catalyst, a Keeley-modified Boss Blues Driver, and an Xotic BB Preamp.
As I plugged into the Champion 600 and strummed a few simple chords, I knew I had found the ultimate practice/recording amp for tube amp aficionados. While the tone itself is the essence of simplicity, I was amazed at how easily the amplifier allowed the natural sound of the guitars themselves to breathe through the amp. The Les Paul sounded thick, full, and rich whereas the Telecaster was twangy and bright.
Being able to crank the amp to its full five watts brought out the best in it as well. Hard rock fans probably won't be satisfied, but the sound definitely "sings" when cranked. I was also pleased in how "pedal friendly" the amp is. Paired with a good overdrive pedal, this amp can really play the blues and even rock a bit. I played around with various microphones to see what kind of recorded sound I could get, and I was very pleased. The recorded sound is far bigger than the amp's small chassis would ever suggest.
About the only complain I have is that the stock tubes are pretty weak, so I sought some replacements from Eurotubes. Given the sound and first class looks of the amp, this complaint is admittedly minor.
Final Thoughts
The Fender Champion 600 doesn't strive to be all things to all players, but what it does, it does very well. You've got a quality practice and small gig tube amp that allows you to explore the beautiful tones of a cranked tube amp without hearing damage or a broken back.
Name of Gear: Fender Champion 600
List Price: $199.99
Manufacturer Info: Fender Musical Instruments; fender.com
Pros: Inexpensive; portable; attractive cosmetics
Cons: Stock tubes are pretty cheap
Find your new or used Fender Champion 600 for sale on eBay today!