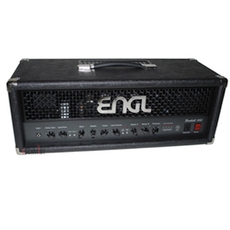 If you're a Death Metal or Hardcore player who's seeking an amp capable of extreme gain that's well constructed and fairly priced, the ENGL Fireball 100 is worth a try.
When it comes to guitar amplifier design, there are several different approaches. Some designs are based an "all things to all people" approach and offer an amp with multiple channels, multiple levels of EQ, and effects so that it can sound like everything from a Pignose to a Dual Rectifier. There's a time and place for such designs. However, sometimes so many options can be too many options. There are times when less is more. The ENGL Fireball 100 is one such amplifier. It doesn't do a thousand different things, maybe just two or three, but it does those very well. Let's see what makes the ENGL Fireball 100 tick.
Specifications
The Fireball 100 is a two channel amplifier with individual gain controls for the clean and lead channels. The two channels share a passive EQ section with bass, middle, treble, and presence controls. The clean channel sports a bright switch for more "sparkling" clean sounds. There's also a bottom and mid boost that affects both channels. Each channel also has individual master volume controls. Also included is a power amp monitoring that informs you when a power amp tube has failed. A variable and switchable effects loop is included as is an adjustable onboard noise gate, useful for helping tame the extreme gain possible with the amp, which is powered by four 6L6 power tubes and four 12AX7 preamp tubes.
Performance
I tested the Fireball 100 with a Fender American Deluxe Strat outfitted with a bridge humbucker into a new Marshall 4×12 cabinet and a Mesa Boogie 2×12 Rectifier cabinet. Let me say from the outset that if you're looking for an amp that can be used for jazz, country, blues, metal, and polka, you're probably going to want to look someplace else. That's not to say that you can't get some quality, usable sounds out of the Fireball 100. You can. It's just that the amp focuses on a couple of sounds – classic clean and killer high gain – and does them extremely well.
Let's talk about the clean sound first. Since this amp is aimed primarily at metal and shred players, the clean sounds are of the "Enter Sandman" variety. That is, you're probably not going to use the clean channel for a jazz or blues gig any time soon. However, if you're primarily a metal or shred player who needs an occasional clean sound, then you'll be very pleased with the clean channel.
Channel two, the lead channel, is where the amp shines. Again, this isn't perhaps the most versatile lead tone you'll ever encounter. If you're looking for AC/DC crunch, then this amp is probably over the top for you. However, if you're looking for a really intense metal and shred sound that can cover Cradle of Filth or Killswitch Engage type sounds, then this is the amp for you. The bottom end is incredibly tight – perfect for 7 string players – and the mid boost allows for a variety of lead sounds that can really cut through the mix.
Even though the Fireball 100 has the warmth of a tube amp, it has a solid state "feel" to it in some ways, which isn't a bad thing. It has a quick, tight response to it that makes the amp perfect for the hardcore crowd who will likely buy it. You know that an amp has a lot of gain on tap if it has a noise gate built in. You have to be careful with the gate if you've never used one, since it can choke your sound if you're not careful. However, when properly used, the onboard gate does a fine job in taming the extreme amounts of gain on tap.
Final Thoughts
If you're a Death Metal or Hardcore player who's seeking an amp capable of extreme gain that's well constructed and fairly priced, the ENGL Fireball 100 is worth a try.
Name of Gear: ENGL Fireball 100
List Price: $2,124.99
Manufacturer Info: ENGL Amplification; engl-amps.com
Pros: Excellent rock, metal, and shred sounds; powerful
Cons: None significant